eXtra Special Birds
Photos taken May, 2002
Quite rare Red Fronted Macaw named "Harley." This breed thought to be extinct until 1986 when a flock was discovered.
The Hahns Macaw is an adorable, loving bird and much smaller than the other macaws.
We will be adding to this section so keep checking back!
See more eXtra Special Birds Here:
eXtra Special Birds - Page 1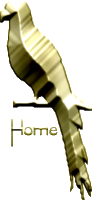 All artwork and graphics are the property of Ruger Design and are protected by copyright law. Any reproduction of these graphics without the written permission of Ruger Design is forbidden by law.