eXtra Special Birds
Photos taken May, 2002
Extremely rare Great Billed Parrot (Male). Very few ever hatched in the U.S. Only about 1 of 7 hatched are male so this fellow is incredibly RARE indeed!

Unusual to see these two pals together, an African Grey and a Moluccan Cockatoo - and they love each other.
| | |
| --- | --- |
| | |
| Greenwing Macaw | Male Eclectus |
We will be adding to this section so keep checking back!
See more eXtra Special Birds Here:
eXtra Special Birds - Page 2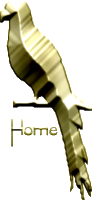 All artwork and graphics are the property of Ruger Design and are protected by copyright law. Any reproduction of these graphics without the written permission of Ruger Design is forbidden by law.